HeartFlex Golf Training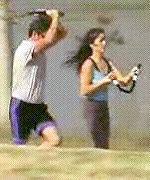 HeartFlex on the Run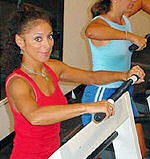 HeartFlex on the Treadmill
Sports Medicine Therapeutic Exercises for hands,
wrists, arms, forearms, shoulders, chest, and back.

To view 35 HeartFlex exercises click HERE!


An Excellent Addition for the Athletic Trainer's (ATs) Toolbox
Prevents Cold Muscle Sports Injuries
HeartFlexing before strenuous exertion stretches upper body muscles to their optimum length. Increase flexibility and range of motion with HeartFlex's patented "consistent resistance" assembly.

Athletic Trainers (ATs) know the value of warming up and cooling down. Muscles have been compared to taffy. If you stretch taffy when it is cold it breaks and tears, after being warmed up it will bend and stretch without structural damage.

HeartFlex works for both static and dynamic stretches.


Eliminates Accumulated Muscle Toxins
HeartFlex therapeutic exercises cool down athletes after rigorous training sessions or sporting events. Slowly decrease activity with HeartFlex and eliminate accumulated muscle toxins while incrementally re-establishing pre-exercise physiology.


Prevents Re-injury During Therapeutic Exercises
Athletes are in control of their own joint manipulation and use only their own muscles to perform movement eliminating the chance of re injury due to overextension.

Rehabilitation products using weights, springs, or rubber bands may overload sensitive healing structures, causing unintentional damage and lengthening the duration of recovery.


Maintains Upper Body Strength and Flexibility During Lower Body Rehabilitation
Athletes recovering from lower body sports injuries use the HeartFlex while sitting or reclining to benefit from the combination of upper body strength training and cardio workout that HeartFlex supplies. The athletic trainer (AT) selects different HeartFlex therapeutic exercise movements to target specific upper body muscles and joints.

The athletic trainer (AT) determines the intensity of the strength training workout by varying the number of repetitions performed when treating sports injuries. The workout is customized to be as easy or rigorous as desired.


Maximizes Sports Performance
HeartFlex's unique ability to create "consistent resistance" over a range of motion combined with multiple repetitions increases strength and flexibility.

HeartFlex effectively strengthens upper body muscles and their connectors and its ability to isolate and pinpoint individual structures improves athletic performance by allowing the designing of workout programs that are tailored to target desired sports specific muscles, joints, ligaments, and tendons.


Compact, Lightweight, Silent - Use It Anywhere
HeartFlex weighs less than a pound. It folds for easy storage and transportation. HeartFlex's silent operation does not disturb conversations, listening to the radio, or watching TV. Equally effective at the office, home, locker room, dugout, sidelines, & etc.


Great Addition for Athletic Trainers (ATs) Toolbox
Compact, portable, and easy to use; HeartFlex is effective in the locker room, the dugout, on the sidelines, anywhere and everywhere. When applied as sports medicine by an athletic trainer (AT) the HeartFlex may avoid additional medical treatment and disruption of normal daily life. HeartFlex treats various sports injuries; speeds healing and keeps injured athletes on the move.


Rapidly Heals Sports Injuries
HeartFlex exercise works by pitting one set of muscles against the other - cutting workout time in half. Helps atheletes heal from sports injuries and achieve their body's full potential.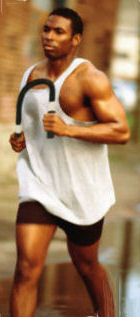 HeartFlex for Athletes
HeartFlex for Walkers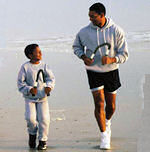 HeartFlex for Families
HeartFlex on the Beach
The Heart Flex
Hand-Held Exerciser



Made in the USA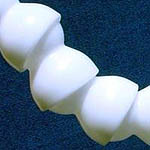 Click to see
Why It Works